Nothing found in Ballyclare search for baby's body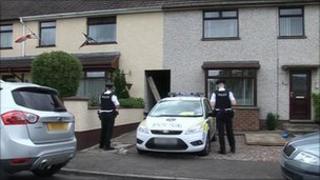 A police search for an infant's body at a house in Ballyclare has ended after nothing was found.
The search was initiated after an anonymous tip-off that the body of a small child had been buried at the back of the house at Hawthorn Way.
Police have said they are satisfied that information was false and no human remains are at the location.
They will now be "seeking to establish if that information was provided with malicious intent," a spokeswoman said.
The search began on Monday and was not linked to the current occupant of the house.