Road re-opens following Newry pipe-bomb security alert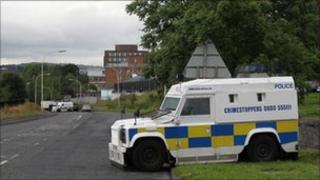 Army bomb experts have carried out a controlled explosion on a pipe bomb found in Newry.
A stretch of the Camlough Road between Carnagat Road and Monaghan Street had been closed for a period.
Police were critical of those responsible for the alert and subsequent traffic disruption.
A PSNI spokesperson said they "had scant regard for the safety of the local community".
Ulster Unionist MLA for Newry and Armagh, Danny Kennedy, said the bomb was an attack on the entire community.
"Those responsible need to realise that they are not wanted nor welcome in Newry.
"These attacks only succeed in increasing the determination of the law abiding population to ensure these people do not impose their will and disrupt normal life."
Newry Sinn Fein councillor Brendan Curran said: "The magnitude of what could have happened had the device exploded does not bear thinking about.
"It demonstrates a total lack of appreciation for people's lives to place a device such as this in this particular location."