£10 jeans theft intimidation charge withdrawn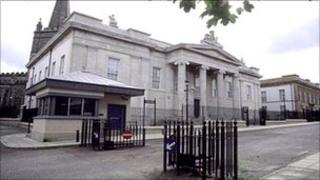 A Strabane woman jailed for stealing a £10 pair of jeans has had a charge of intimidating a prosecution witness withdrawn by the public prosecution service.
Alison Hewitt, from Patterson Park in Strabane, was convicted of stealing the jeans from a clothes shop in Derry last December.
The 28-year-old was jailed for three months.
She was released on appeal after one night in custody.
During her trial, Hewitt was arrested and charged with intimidating a prosecution witness by taking photographs of her car with intent to cause a police investigation to be obstructed or perverted.
Ms. Hewitt's phone was seized by the police after her arrest.
News of the arrest was withheld from the jury in her trial on the instructions of the trial judge.
At Londonderry Magistrate's Court, a prosecution solicitor said the intimidation charge was not being proceeded with and was being formally withdrawn.