Red Sky workers stage protest at Stormont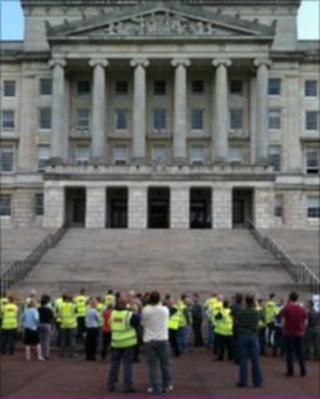 Workers from the company at the centre of a row between the housing minister and the Housing Executive have staged a protest at Stormont.
The Housing Executive is due to end its £8m contract with Red Sky after a probe into the company's work practices.
The minister responsible, Nelson McCausland, had asked for the contract to be extended while a new system is put in place.
It will be discussed at a meeting of the Stormont Executive on Thursday.
Up to 150 Red Sky workers protested at Stormont before the meeting began.
On Wednesday members of the trade union Nipsa held a lunchtime protest outside the offices of the Department of Social Development.
The union accused Mr McCausland of interfering with the Housing Executive.
Collusion
The minister has launched an "independent and forensic investigation" into contracts involving a number of Housing Executive districts.
He had suggested either incompetence, or what he called "collusion", had been going on involving practices including double charging.
But Nipsa assistant general secretary Bumper Graham said his comments were "very serious and derogatory".
Red Sky went into administration shortly after the Housing Executive in April announced its intention to end the contract.
The company has always denied the allegations over its work practices.