Police warn motorists to avoid north Lurgan/Craigavon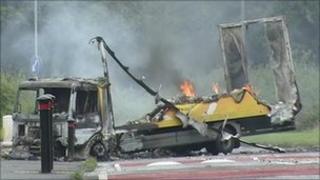 Police are advising motorists to avoid the greater Craigavon and north Lurgan area.
A lorry was set alight close to Brownlow College on the Tullygally Road in Craigavon on Thursday.
Earlier, a van was hijacked at gunpoint by two masked men, also in the Tullygally area.
It was set alight shortly before 1130 BST close to the Drumbeg roundabout. A car was also burnt out there.
It follows trouble in Lurgan on Wednesday night when a van and a car were burnt out during disturbances in the Lake Street area.
The SDLP's Dolores Kelly said that trouble flared after the visit of a delegation to discuss anti-social behaviour in the area.
Ms Kelly said the trouble was caused by a small group "who are just a scourge on the local community".
A 24-year-old man and a woman in her 20s were arrested for disorderly behaviour following the disruption on Wednesday.
The main Belfast to Dublin railway line through Lurgan was closed for a period because of the trouble.
Dolores Kelly said the area around Lake Street was "a magnet for anti-social behaviour".
'Violence escalated'
Ms Kelly said her party had hosted a visit to the area by the justice minister, police, the community safety partnership and local councillors to discuss the problem.
She said the violence began in the afternoon and escalated during early evening.
"People are tormented around that area, they are just fed up," she said.
"This very small group of people are just a scourge on the local community. They need to be apprehended and brought before the courts."
The Upper Bann MLA said the area needed investment "in terms of activities for our young people and our children".
"Over the past four or five months, there have been four incidents and the policing operation of those incidents has cost over £100,000," she said.
"That's money which could be much better spent in providing a good policing service to locals in that area."
She said that reports of shots on Wednesday had been particularly worrying.
"Only a couple of months ago, a couple of handguns were recovered from that particular area.
"That's one of the reasons why local people do live in fear because there does seem to be access by some individuals to weapons and people are very frightened of what could and might happen."