Hale widow's ire at News of the World hacking claims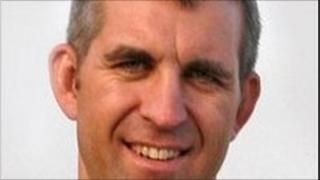 The widow of a soldier killed in Afghanistan has expressed revulsion at claims the News of The World newspaper may have hacked into the mobile phones of bereaved military families.
Captain Mark Hale died in August 2009 after being caught in an explosion while helping an injured colleague.
His widow, DUP MLA Brenda Hale, said she was shocked at the claims.
She said she had worked with the News of The World on behalf of soldiers' families.
"The Sun and the News of The World have always been supportive of the armed forces and the work of organisations like Help for Heroes and the Royal British Legion," she said.
"Many people will therefore be very hurt by the accusation that journalists from those papers have hacked in to the mobile phones of the families of service personnel who died whilst on active service.
"These are incredibly serious accusations and following on from the claims concerning the mobile phone of Millie Dowler, they have sent shockwaves of revulsion throughout the entire country."
Ulster Unionist councillor Bob Stoker's son Michael suffered severe burns when his patrol was ambushed in Afghanistan in May 2009.
Mr Stoker said he was shocked at the hacking claims and could not understand what anyone would gain from the practice.
"At the time of Michael's incident, quite a number of reporters contacted me," he added.
"They were local newspapers and local media and were very understanding of the situation and didn't push it.
"I am one of the biggest supporters of freedom of speech and freedom of the press, but whenever the methods of gathering information come into question for reporters, I think there needs to be some sort of response from government."
News International is co-operating with a police inquiry into hacking at the News of the World and is conducting its own investigation into the claims.
"If these allegations are true we are absolutely appalled and horrified," the company said in a statement, adding that its "record as a friend of the armed services and of our servicemen and servicewomen, is impeccable".