Joanne Mathers' family unhappy with murder inquiry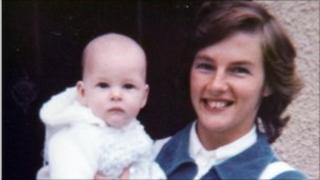 The family of a woman killed by the IRA in Londonderry are calling for a review of an investigation into her murder.
Joanne Mathers, 29, was collecting census forms in the Gobnascale area 30 years ago when she was shot dead.
Her family said they were unhappy with how the Historical Enquiries Team was handling the case.
They want the HET to ask Deputy First Minister Martin McGuinness if he has knowledge that could help identify her killers.
East Londonderry DUP MP Gregory Campbell said he had been asked by the Mathers family to express their concerns about the way the HET investigation was being conducted.
Mr Campbell is to write to the team requesting that they interview Mr McGuinness in respect of any knowledge he may have that would help the investigation.