Gerry McGeough wins first step in bid for royal pardon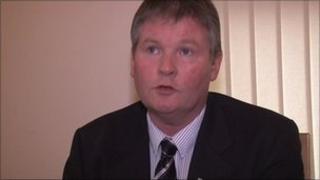 A republican jailed for trying to murder a UDR soldier has won the first part of a legal bid to be freed under a special pardon granted by the Queen.
On Friday, a High Court judge granted leave for Gerry McGeough to seek a judicial review in an attempt to obtain a Royal Prerogative of Mercy.
The 52-year-old, from Dungannon, County Tyrone, is serving a 20-year sentence for shooting Samuel Brush.
Mr Brush, a postman and part-time soldier, was shot in June 1981.
Despite being injured, he was able to return fire at the gunman in Aughnacloy, County Tyrone.
McGeough's lawyers have argued that he should be granted the special mercy warrant to ensure equal treatment with other convicted terrorists who had benefited from it.
It was claimed it would be unlawful to draw a distinction because McGeough was previously jailed in Germany and in the United States.
Under the terms of the Good Friday Agreement, the former IRA man is expected to be released in two years' time following his conviction for the attack on Mr Brush.
But his lawyer argued that the time he spent in jail abroad should count towards that period.
He said McGeough was in an indistinguishable position from others who had received the Royal Prerogative of Mercy.
Mr Justice Treacy granted leave to McGeough to seek a judicial review on the issue of inequality of treatment. But he rejected two other grounds including political discrimination.
Lawyers for both sides are hoping to draw up a timetable for the proceedings by September.