Derry defendant flees Northern Ireland 'over threats'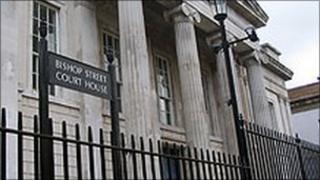 A district judge has been told that a man who was due to be sentenced at Londonderry Magistrates Court has fled Northern Ireland because of threats from a paramilitary organisation.
William Lewis Morrison from Brewsters Close in the city, was due to have been sentenced for stealing a trolley of groceries.
However, a defence solicitor said his client would not be in court.
The district judge issued a bench warrant for the defendant's arrest.
Mr Morrison's solicitor said his client left Northern Ireland last month following a pipe bomb attack on a house in the Brandywell area of Derry.
He is accused of stealing £280 of groceries from the Tesco supermarket at Strand Road in the city on 23 September.