Northern Ireland Events investigation has cost £474,000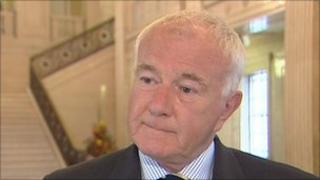 Almost £500,000 of taxpayers' money has been spent investigating the collapse of a quango.
The Northern Ireland Events Company folded with debts of £1.7m in 2007, but an official investigation has still to complete its work.
It began in 2008, when the Department of Trade commissioned a Company Inspectorate examination of the quango, including the role of its board.
At present, the inspection has cost £474,000
That information was provided in an assembly answer to Ulster Unionist MLA David McNarry.
In response, the Department of Trade, Enterprise and Investment said the target date for the production of a draft report is 30 June 2012.
The Northern Ireland Events Company was created to stage leading music and sports events.
However, it collapsed in debt, despite having been funded to the tune of £2m to £3m a year by the taxpayer.
A BBC Newsline investigation revealed a confidential in-depth inquiry by accountancy experts KPMG which found irregular loans and payments.
The investigation also discovered a break-down in accountability between the Department of Culture Arts and Leisure and the board which ran the company.
Assembly answers to Mr McNarry refused to divulge whether the PSNI was involved.
On Friday, Mr McNarry said he had been watching the issue since he was chairman of the Department of Culture and Leisure Committee.
"It seems to me that nobody is in a hurry," he said.
He added that he hoped the assembly's Public Accounts Committee would become involved.
Set up by the government in 1997 to boost Northern Ireland's profile on the international stage, the NI Events Company was best known for attracting acts like Sir Elton John and Pavarotti to play in Stormont's grounds.