Parades Commission 'overstepped the mark': Robinson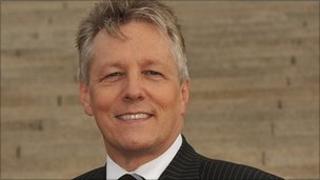 Peter Robinson has accused the Parades Commission of "overstepping the mark" by dictating which hymns can be played by loyal orders during parades.
The DUP leader said the commission not only banned some hymns from a church parade in east Belfast, but chose which tune should be used.
The commission said it did a "difficult job in difficult circumstances".
"We appeal for leadership from political, clerical and community leaders at this time," it added.
Mr Robinson also criticised a demand that the Union flag is kept furled during some marches.
He said the decision was "intolerable".
"Now, in the determination issued for the 12 July on the Crumlin Road, the commission has determined that the Union Flag, our national flag, must be furled whilst the parade passes that section of road," Mr Robinson added.
"Moreover the parade must pass in absolute silence and even a single drumbeat is not permissible.
"Years of engagement by the North and West Belfast Parades Forum have been dismissed and republican violence has been rewarded."
Mr Robinson asked the commission to reconsider its determinations.
The DUP leader also called for the abolition of the body in order to create a "new start, a new structure and a new system".
In response, the commission said: "There are a small number of parades across Northern Ireland which remain contentious.
"While different communities may perceive that they win or lose with respect to the decisions of the commission, it is clear that if violence or civil disturbance takes place it benefits no-one.
"Hopefully all our political, community and clerical leaders will also do their utmost to ensure we have a peaceful and dignified Twelfth of July."