Paisley asks police to look into 'hacking' at NI papers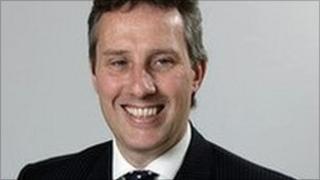 Ian Paisley Jnr has asked the Metropolitan Police to examine if newspapers in Northern Ireland used phone hacking to obtain stories.
The DUP MP said all UK newsrooms were "under suspicion" following revelations surrounding the News of the World.
He called on local newspapers to "come clean" if they used the practice.
The National Union of Journalists (NUJ) said such calls were in danger of "implying unethical behaviour".
Mr Paisley fears he was amongst the alleged 4,000 victims of the phone hacking scandal.
He said: "Since the Metropolitan Police commenced their investigation into phone hacking I have asked them in writing to look at local newsrooms to examine was there any cross-contamination between News of the World hacking stories and sources and subsequent stories that have appeared in local papers."
Mr Paisely said he sent the letter some months ago, and had received an acknowledgment that it was being dealt with.
'No evidence'
There have also been calls for news outlets in the Irish Republic to reveal if they ever used phone hacking techniques.
Labour senator and former journalist Suzanne O'Keeffe encouraged editors of Irish newsrooms to "confirm to their readers, viewers and listeners that nobody working for them, directly or indirectly, was ever involved in these kinds of practices".
However, Irish Secretary of the NUJ Seamus Dooley said there was "no evidence" that the type of behaviour exposed at the News of the World under Rebekah Brooks and Andy Coulson reflected anything other than "a malaise at the heart of Murdoch's empire".
He also warned against a rush towards the introduction of privacy legislation or other restrictions on the media as a result of the revelations.
Mr Dooley said the law in Ireland was adequate to deal with privacy issues, but called for a debate on media ownership and control.
The NUJ represents 3,500 people in the Republic and 800 in Northern Ireland.