Children rescued from rocks at Groomsport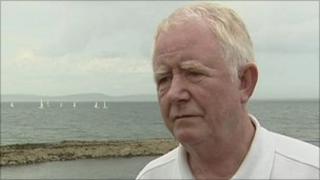 Two children, who became stranded on rocks in County Down, were rescued after a member of the public heard their cries for help.
Cyril Hamill was in the living room of his home in Groomsport when he heard the screams of two 11-year-old girls coming from the nearby beach.
"I shouted at one of the girls 'are you in trouble?' and she said 'my friend is in trouble'," added Mr Hamil.
He alerted the coastguard and the RNLI who arrived at the scene minutes later.
One of the girls had fallen from a 10ft rock into the water and had to be rescued by Bangor lifeboat. She was said to be "shaken, cold and very, very scared".
She was examined by an ambulance crew, but was not seriously hurt. Her friend was able to make her way back to the shore with the aid of coastguard officers.
Ice cream
"There are not very many people around here at that time of night because it was 1030, so I shudder to think what could have happened," said Mr Hamill.
John McElory Station Officer with Bangor Coastguard praised Mr Hamil's actions.
He said the friends had gone out for an ice cream at the beach when they got into trouble.
Mr McElroy said: "We are very, very thankful to the neighbour. He heard the screams of the girls shouting for help.
"He wasn't too sure what the situation was at the time. It is difficult to determine at times if some girls are having a bit of fun or if they are actually in danger.
"He took the right action and called the emergency services."
Mr McElory appealed for members of the public, particularly children, to avoid venturing too close to the shore.