Four teenagers are rescued from the sea in County Down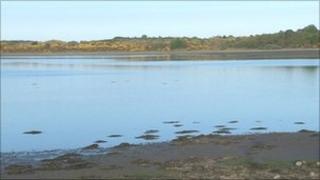 Four teenagers have been rescued from the sea in County Down.
The coastguard received an emergency call at 1800 BST on Saturday from the group who were cut off by the tide in water close to Ardilea, while walking from Ballykinler to Dundrum.
Some of them were up to their waists in water.
They were rescued by a former coastguard, who heard their cries for help. He brought them ashore in his dinghy.
The four were transported to hospital by two ambulances for further assessment.
Gary Young, watch manager at Belfast Coastguard, said "the teenagers were extremely lucky to have been rescued".
He said: "I would like to pay tribute to the quick thinking of a former coastguard whose actions certainly made for a happy ending to this potentially life threatening incident."