Two sisters rescue body-boarders at White Park Bay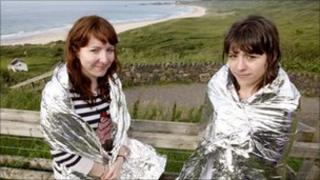 Four people have been rescued after being caught in rip currents at White Park Bay in County Antrim.
The Belfast Coastguard received the emergency call at 1700 BST on Sunday when body-boarders got into difficulties in water between Bushmills and Ballintoy.
Hayley and Laura Sherwin, two sisters from Glengormley, had to be rescued after attempting to help.
The coastguard, helicopters and lifeboats were involved in the rescue.
Hayley Sherwin said: "I thought at the time it would be a good idea to wade out as far as I could go with the buoyancy aid around my waist and try to throw it to them, but as they probably found as well, it gets deep very, very quickly.
"I attempted to pull them out of the current they were in but there was just no way as it was just very rough out," she added.
Laura Sherwin swam out to assist her sister. She said: "It was frightening and the water was cold. I'm not sure how much longer we could have waited just paddling there."
Gary Young, Belfast coastguard's watch manager, said the riptides in the area were "notorious".
"If you are venturing out with the intention of going body-boarding, please make sure that you find out about local conditions and the possible dangers of rip tides."