Chinook widow: 'Dream' to clear pilots of blame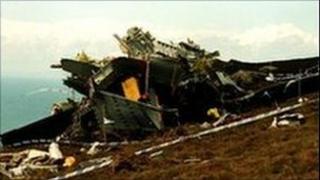 A widow of a man killed in the 1994 Mull of Kintyre Chinook air crash said it would be a "dream" to have the pilots cleared of blame.
Dr Susan Phoenix spoke out against Sir Michael Graydon, chief of the air staff at the time of the crash, who remains convinced the pilots were responsible.
The flight from Belfast to Inverness killed 29 people when it crashed.
The inquiry into the crash will conclude the two pilots should not have been accused of gross negligence.
In what was the RAF's worst peacetime accident, the Chinook carrying 25 of Britain's most senior intelligence experts and four crew crashed in thick fog, killing all on board.
Over nearly two decades, campaigners have sought to have Flt Lt Jonathan Tapper, from Norfolk, and Flt Lt Richard Cook, from Hampshire, cleared of blame, but successive defence secretaries have refused to overturn the findings of two RAF air marshals.
Ms Phoenix husband's Ian, a senior RUC officer, was one of those killed.
She said: "It doesn't make sense that two highly skilled air crew, who are special forces trained, would have done such a thing.
Inquiry submitted
"We have had so many inquiries and investigations, all of whom who have said the same that this does not make sense, it cannot be proved beyond reasonable doubt and it is an unsafe verdict."
Recommendations from the nine-month inquiry, led by Lord Philip, have now been submitted to Defence Secretary Liam Fox, who is due to make a statement to MPs next week on the findings.
Sir Michael Graydon disputed the findings of the new inquiry. He said the pilots had broken the rules by flying at too low an altitude in bad weather in a mountainous area.
"We agonised over it, but the facts as far as we are concerned - and they remain in the view of every chief of air staff who has conducted a subsequent review - are the same," he said.
BBC Scotland's political correspondent, Tim Reid said there had long "been a dispute about what caused the crash".
Speaking on Good Morning Ulster on Monday, he said there had been "claims about the engine software on board".
He said: "There was an official report by the RAF two years before the crash which called into question the airworthiness of the entire fleet of Chinooks."