Tommy English murder accused fails in bonfire bail bid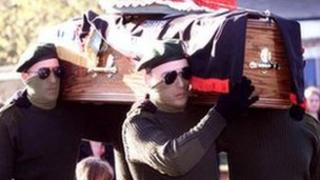 A man charged with the murder of a loyalist paramilitary chief has failed in a High Court bid to be allowed to attend an 11th night bonfire.
David Miller was refused permission to go into the Mount Vernon estate in north Belfast.
A judge heard it would be impossible to monitor him as police resources would be stretched to the limit.
Mr Miller, 39, is one of nine men charged with murdering Ulster Defence Association member Tommy English.
Mr English, 40, was shot dead at his home on the Ballyduff estate, Newtownabbey, at the height of a a loyalist feud in October 2000.
Charges were brought against the suspects following a major reinvestigation by the Historical Enquiries Team.
HET detectives centred their inquiries on the activities of an Ulster Volunteer Force unit based in the Mount Vernon estate.
Miller, with an address at Upritchard Court, Bangor, also faces a series of other charges, including UVF membership, grievous bodily harm with intent, kidnapping, and wounding with intent.
He was previously granted bail but banned from entering Mount Vernon apart from agreed visits to his mother's home.
His lawyer sought a variation on those conditions to allow him to go with his family to relatives in the estate for the bonfire celebrations on Monday night.
'Culture'
The judge was told it would be his last chance for a break before a trial expected to last up to eight months begins in September.
It was also claimed that attending the 11th night bonfire was part of Mr Miller's culture.
But a prosecution barrister said police had grave concerns about letting the accused into Mount Vernon for the event.
She said: "Regardless of whether any bonfire in Mount Vernon passes off peacefully, the PSNI resources are going to be stretched to the absolute limit.
"It's going to be impossible to police any activity."
Refusing the variation request, Mr Justice Treacy described it as "a wholly unmeritorious application".
He pointed to the reasons why Mr Miller's visits to his mother were carefully agreed, saying it showed why it was necessary to keep him out of the estate at other times.
The judge told the defence: "I don't consider it is a suitable case to relax the bail conditions in the matter sought by your client who is on bail for murder and other serious offences."