Northern Ireland house sales up but prices still fall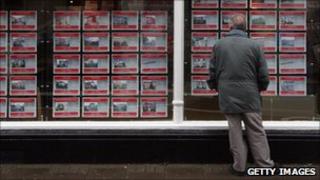 The number of house sales in Northern Ireland is rising, however prices are still falling, according to the latest property market survey.
The study was carried out by the Royal Institution of Chartered Surveyors and Ulster Bank.
Three quarters of chartered surveyors who took part said they expected prices to be flat for the next three months.
The remainder were evenly split between those who said prices might fall and those who said they would rise.
"On the positive side, affordability has improved markedly for first time buyers, according to a range of indicators. Interest rates remain very low, and will likely remain low for some time," said RICS Northern Ireland spokesman, Tom McClelland.
"The fact that transaction volumes appear to be rising is welcome, but this is of course from low levels, relative to historic averages and shouldn't be interpreted as a meaningful recovery of the housing market."
Mr McClelland said there was variation between the experiences of regions and between sectors.
Derek Wilson, head of lending products at Ulster Bank, said: "Greater affordability is currently a significant feature of the Northern Ireland housing market.
"And as increased realism emerges in the resale market with regard to asking prices, activity levels will rise. If houses are priced in line with market realities, they can be expected to sell."