Ninety arrests and over 300 drugs seizures at Oxegen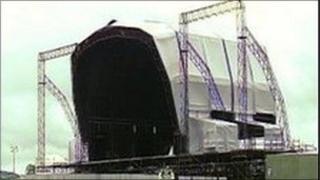 Irish police have said there were 90 arrests and more than 300 drug seizures at the Oxegen music festival.
Over the four days, 21 arrests were for public order offences, 28 were drug related, eight for assault, 12 for theft and 15 drink-driving arrests.
There were 308 drug seizures, of which 280 were for 'simple possession', according to the Garda.
Five teenagers, including four from NI, received slash wounds following a row at a campsite at the festival.
It happened shortly after 0400 BST on Saturday.
A 19-year-old man from County Tyrone was treated in Tallaght General Hospital for his injuries.
Four other men had their injuries treated on site. Three of them were from County Londonderry.
Thousands of people attended the three-day festival which was headlined by Beyonce on Sunday night.