Tourettes sufferer walks free after charges dismissed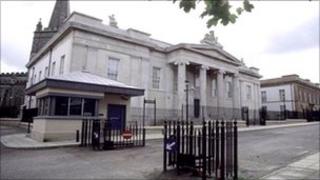 A man with Tourette Syndrome walked free from a court in Londonderry on Monday when three public order charges against him were dismissed.
Eugene Martin McLoone, 54, from Abercorn Road, Derry, contested charges of disorderly behaviour, assaulting a policeman and resisting arrest.
A policeman said he had approached Mr McLoone at Strand Road on 11 January.
At one point, he said, Mr McLoone threw his crutches down, lay on the ground and screamed that he had been attacked.
He arrested him.
A doctor told the court that Mr McLoone was the only one of his 11,000 patients who had suffered Tourette's.
"He falls into the 10% of Tourette Syndrome sufferers who has coprolalia or dirty tongue. When he would arrive at my surgery for an appointment I knew he'd arrived because I would hear him swearing in the waiting room," he said.
"Tourette's sufferers are also prone to rages brought on by increased stress. Part of the rage could be throwing themselves onto the ground.
"There is no particular medical treatment for Tourette Syndrome sufferers to modify their behaviour when under stress", he said.
The charges were dismissed.