Derry peace bridge damaged by vandals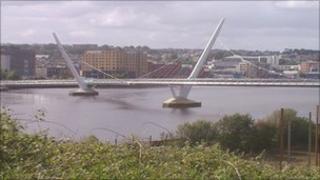 Vandals have damaged Londonderry's 'peace bridge' across the river Foyle.
Police said they received a report about the damage on Monday afternoon. Sinn Fein councillor Colly Kelly said two large glass panels on the bridge had been smashed.
"Thousands of people have used the bridge since it opened a fortnight ago and it has proved to be a very positive asset to our city centre," he said.
"We cannot allow a small number of individuals to undo that good work."
The bridge, which is 312 metres long, was built at a cost of £14.6m and is designed for pedestrians and cyclists.