Irish dancer's legal battle to name abuser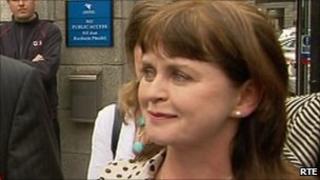 It has been a long road to justice for Dana Doherty, but last Friday she finally received the news she had been waiting for.
Following a successful civil action at the High Court in Dublin a Supreme Court judge ruled that the Irish dancing teacher, who had sexually abused Ms Doherty throughout her teenage years, could be named.
The identity of 68-year-old Derry man Michael Quigley was finally revealed.
Ms Doherty's solicitor Brian Gill described the decision as "landmark". Two juries had previously failed to reach a verdict on the case at separate trials in the criminal court.
In a statement released to the BBC, Ms Doherty's partner Fintan Gallagher described her "as a resilient and tenacious woman" who has fought for 18 years to clear her name.
Prosecution
She was a pupil at Quigley's Irish dancing school in Letterkenny, County Donegal, when the abuse began in 1982. She was just 12 years old.
It continued for another seven years, but it wasn't until 1993 that Ms Doherty made a formal complaint to gardai. However, the Director of Public Prosecutions in the Republic decided against prosecuting Quigley.
Determined to bring her abuser to account, Ms Doherty, now 41, made a second statement in 1998. This time a prosecution was ordered which led to a trial in Letterkenny in 2000. However, a jury failed to reach a verdict.
A retrial was ordered, but once again the jury could not agree. Ms Doherty then began civil proceedings in 2007.
Last week's High Court ruling by Judge Sean Ryan could offer hope to other victims of abuse, who have failed to win criminal proceedings, according to solicitor Brian Gill.
The judge described Ms Doherty's evidence as "coherent, consistent and credible" and ruled that she had indeed been sexually abused by Quigley. He had always denied the charges.
Two other former students also gave evidence and the High Court found that he had "interfered" with them too.
An attempt by Quigley to keep his identity a secret, was subsequently quashed by the Supreme Court.
Courage
Mr Gallagher said the length of the case had caused his partner, who is now a schoolteacher, tremendous pain.
"In taking this civil route Dana has at long last had her voice heard. The High Court of Ireland has given her an ear," he added.
"This time, in the civil trial, Dana felt that the system was more balanced. She was able to bring in her own witnesses who confirmed that the story she is telling is the truth.
"Two other very brave and noble women gave evidence in court that Mr Quigley abused them also. Together these three have stood strong and have illustrated that little girls grow up into courageous women who are not afraid to speak out."
Although Mr Justice Ryan could not pass down as custodial sentence, he ruled that Quigley, who now lives at Barnhill Park in Letterkenny, pay 400,000 euros (£352,000) in damages to Ms Doherty. He ordered 50,000 (£44,000) euros to be paid immediately and put a stay on the rest of the sum pending an appeal.
Lawyers for Quigley told the court he was a retired man of no means and no money. But Ms Doherty's counsel said this was because he had transferred two houses into the sole name of his wife in recent years.
Ms Doherty has also called on the Irish Dancing Commission to take all the necessary steps to protect the children under its care.
The commission said a garda vetting process of all teachers in the Irish Republic has been completed. A similar process is taking place in Northern Ireland.
Mr Gallagher said that now the truth had been heard he hoped Dana would "be able to let go of her painful past and look forward to the future".
"This judgement from the highest court in the land has cleared her name at last and allows the real story to be told."