Fireman injured during 11th night trouble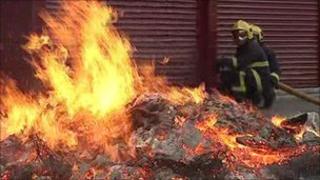 A firefighter was injured and a fire appliance damaged during serious street violence on the 11th night.
The Northern Ireland Fire and Rescue Service (NIFRS) said it had received 180 fire calls as of 0100 BST on Tuesday, a 65% increase on 2010.
At its peak it was receiving one call every 75 seconds, the majority within the Greater Belfast area.
However, it said attempts to reach some areas were hindered by violent disturbances.
A firefighter was slightly injured by stone throwing youths in Londonderry and in Belfast an appliance was taken out of service after it was vandalised.
In addition to this, two additional appliances were deployed to ensure the fire service could meet demand.
'Challenging'
NIFRS Group Commander Trevor Ferguson said it was a very difficult night for firefighters: "We had over 200 incidents last night," he said.
"Last night was a very busy and challenging night for the Fire and Rescue Service across Northern Ireland. We were dealing with a call every 75 seconds at one stage.
"We had a very busy night all round with a full range of incidents. From rubbish fires, bonfires, vehicles in fires, right up to property fires and whilst we dealt with a number of public orders incidents in the greater Belfast area, across Northern Ireland we dealt with some other very serious incidents as well."