McGuinness appeals for calm ahead of Ardoyne parade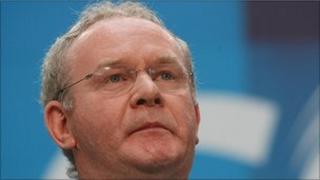 The deputy first minister has called for calm ahead of the contentious Ardoyne Orange parade in north Belfast.
Nationalist rioters attacked police in west Belfast on Monday and Martin McGuinness is concerned tensions will remain high for the remainder of the Twelfth.
He was critical of nationalists who travelled to Ardoyne to protest.
The DUP MP Nigel Dodds for north Belfast has also appealed for a peaceful parade.
The return leg of the north Belfast parade has been marred by violence at the Ardoyne shop fronts for the last two years.
But Mr McGuinness suggested the previous violence at Ardyone and the rioting in west Belfast on Monday were not caused by people who live in the area.
"The people who found themselves at Broadway last night had travelled from different parts of west Belfast to afflict pain and hurt on the local community and attack the police," he said.
"That's a very dangerous situation obviously coming on the threshold of today's Orange parade. My concern is that we see a peaceful situation around the Ardoyne march.
"I think, like we saw in Ardoyne last year and the year before, there are people who describe themselves as nationalist or catholic who do go to places like Ardoyne in order to be involved in activities that are totally anti-social, anti the local community and are very dangerous. People can find themselves very badly hurt.
"I spoke to a number of local people in Ardyone yesterday and they want a totally peaceful situation. They don't want to see people coming into the area for the purposes of causing violence and conflict. We know who will suffer as a result of that - it will be the people of Ardyone."
'Flashpoint areas'
Mr Dodds called the rioting in Broadway last night "deeply regrettable" and also wants people to stay away from interface areas.
"We are concerned that in a number of areas there wasn't particularly a political motivation but people out to cause trouble and take advantage of the situation and cause disruption," he said.
"I would encourage everyone to stay away from interface areas where there could be trouble and especially people who travel considerable distances to come to flashpoint areas to create trouble.
"People should stay away if they have nothing to contribute peacefully and constructively. They should stay at home."