Youth 'major contributor' to east Belfast riot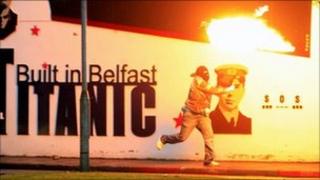 A teenager with learning difficulties was a "major contributor" to rioting in Belfast in June, a court has heard.
The 16-year-old, who cannot be named, was picked out on CCTV footage in a group of more than 100 people involved in sectarian violence at an interface.
There were clashes between loyalist and nationalist mobs on the lower Newtownards Road over two nights.
Police said the boy threw and distributed missiles and attacked a police Landrover on 21 June.
Charged with riotous assembly, he was released on bail from Belfast Magistrates Court on Tuesday.
He was electronically tagged and was banned from going within a mile of the scene of the trouble.
About 700 people were involved in the sectarian violence near a Catholic enclave in east Belfast.
On one of the nights, three shots were fired in the lower Newtownards Road-Short Strand area. The gunman's target was not known, but a photographer was shot in the leg.
Unsupervised
A detective constable who opposed bail said the accused had been seen to "throw items on several occasions, and hand missiles to others".
"He was part of a mob who overturned an industrial wheelie-bin and remove bottles from it," she said.
The policewoman also claimed his mother had failed to supervise him and may even have known of his involvement.
During cross-examination the officer confirmed the accused was not linked to the gunshots or petrol bombs.
In his defence, the teenager's barrister told the court his client had co-operated with police and had no criminal record.
He also said the teenager attends a special needs school due to behavioural issues and learning difficulties.
Curfew
District Judge Harry McKibbin said the boy was granted bail because of his learning difficulties.
He said: "I normally wouldn't be granting bail in terms of a riotous (case).
"Frankly this country needs more rioters like a hole in the head. We need to have people who are not going to be on the streets."
Mr McKibbin added: "If it was anybody else he would not be getting bail."
The judge also imposed a night-time curfew, ordered the teenager to report to police daily and prohibited him from attending any band parades.
The accused will appear again in the youth court on 20 July.