Dublin homeless man honoured for pet rabbit rescue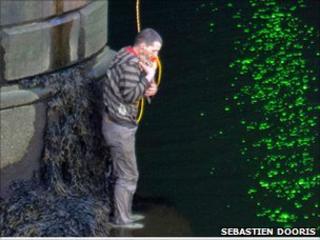 A homeless man has been honoured in Dublin for rescuing his pet rabbit from the River Liffey.
John Patrick Byrne, 38, became a kind of celebrity after a video showed him rescuing Barney the rabbit from the river.
He said he had been sitting on O'Connell Bridge about ten days ago, when a youth grabbed his rabbit by the ears, flinging him into the water.
Mr Byrne was given an award by the Animal Rights Action Network (Aran).
The video by Sebastien Dooris is on YouTube.