Loyalists target foreign nationals' homes in Portadown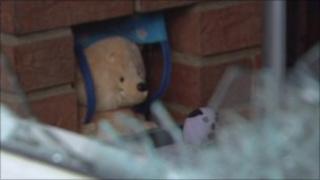 The homes of three foreign nationals have been attacked by masked men in Portadown.
A group of loyalists entered Craigwell Avenue around 0200 BST on Tuesday. They threw stones and other missiles and caused damage to a number of windows.
Sinn Fein said the police should have maintained a presence in the street which has been a flashpoint in the past.
Two police officers were injured in rioting in nearby Obin Street.
Many of the residents who live on the street work in the local food processing industry.
Sinn Fein's John O'Dowd said they made a "valuable contribution" to the local economy.
"They're obviously shocked and traumatised that these attacks have taken place," he said.
"Whether it was racist or sectarian, it is wrong."
Joao Costa's home was one of those targeted.
He is from Portugal and has lived there for two years.
"They threw stones at my house and then they just broke the windows," he said.
'Afraid'
"I think it was pieces of concrete. I want to stay because I like this place.
"I know everybody around and I want to stay, but it is very difficult for me. I'm afraid. I don't know what they might try again."
Craigwell Avenue is near the site of a loyalist bonfire.
"Twelve masked men don't suddenly just turn up in an area," said Mr O'Dowd.
"There was certainly an amount of planning went on involving this attack.
"They came into the area to cause damage and hurt and pain to the local community and they were successful in doing that."
Mr O'Dowd criticised the police for leaving the area a short time before the attack.
"It has been attacked on several occasions in the past," he said.
"What usually would happen is the police would remain present in this area throughout the night.
"For whatever reason the police left the area in the early hours and loyalists entered the area and the trouble started from that.
"So the police have to answer why did they leave?"