'Ludicrous' Larne Council training costs £4,000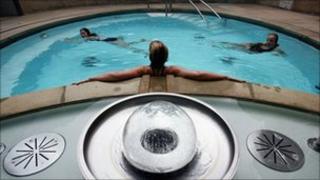 Councillors in Larne have been criticised for spending almost £4,000 on a two-day training course at a luxury spa.
The 15 councillors and six staff travelled to stay at the Burrendale Hotel and Country Club in Newcastle, Co Down.
Green Party Councillor Danny Donnelly called the visit "ludicrous".
But John Matthews from the Alliance Party said it would help the council work more efficiently.
Mr Donnelly obtained the cost of the visit through a Freedom of Information request. The £3,915 bill was made up of charges for the conference room, hotel rooms and meals. It equates to £200 per person.
Larne Council called the training an "intense period of work" and said the Burrendale Hotel was only chosen after a tendering process which "ensured maximum value for money".
'Extravagant'
Mr Donnelly said the same meeting could have been achieved by using a hotel in the council's own borough, saving on travel and the need to stay in the hotel.
"The council is spending this money at a time of austerity when we have to be making cuts. It's very extravagant," he said.
"It could have been done a lot cheaper in the area. There are several local hotels with conference facilities that would have been a lot handier and done it without the residential aspect.
The Green Party councillor also called into question the need for the training at all.
"We only have three new councillors. The vast majority of the councillors have several terms under their belts," he said.
"We have two councillors who are now in their tenth term - so the idea that they would need training is ludicrous."
'Catalyst'
But Alliance Councillor John Matthews said the seminar was productive and would ultimately prove good value for the council.
"This is the second time we've done this. We went to a hotel in Bangor after the last election and made successful agreements and the council worked very well," he said.
"If you're going to get 15 councillors to work harmoniously together in a corporate manner and understand each other there are a lot of things that have to be explained.
"It gives an opportunity to get all of the councillors together in one place for a full day where the directors in the council can explain their various tasks and what the challenges are that lie ahead.
"It is a catalyst, it helps things work. It did work before. Larne Council has worked well over the last six years and I would hope that, that same type of co-operative governance would continue to work."