'Under tens' involved in Derry rioting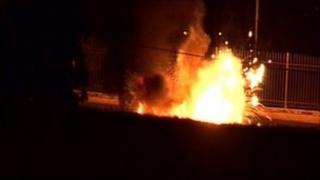 Police have said children as young as 10 were involved in rioting in Londonderry on Tuesday night.
Twelve people, including one woman, were arrested after petrol bombs and bricks were thrown at police.
Trouble broke out in the Bogside and Fahan Street areas, in Gobnascale and Ardmore in the Waterside, and in Strabane and Castlederg.
A 14-year old was among those arrested on suspicion of riotous behaviour.
A crate of petrol bombs was recovered in Fahan Street.
Chief Inspector, Jon Burrows, said children were involved in the rioting.
"I saw some very, very young children in the Bogside throwing stones at police. Children under 10," he said.
"That was running towards midnight. Still children under 10 years of age throwing stones at police and I have to say some adults were present and not intervening. That's very, very sad."
CCTV evidence
Chief Insp Burrows said the police would be using video footage to identify those involved in the trouble.
"The parade went very well, the return parade went very well. The violence that we saw was less than we saw in Belfast, less than we have seen in years gone by but it is still unacceptable that people are throwing petrol bombs at police, damaging their own communities and hijacking vehicles.
"I'm pleased that we made 12 arrests, I'm pleased that we got community co-operation and we have plenty of CCTV evidence, we will review that and anyone we can identify committing criminal offences will be pursued."
A Spanish tourist staying in the nearby Tower Hotel was lucky to escape injury.
"The young children attacked police. They threw a bottle across the wall and it crashed four meters (from us)," he said.
Foyle MLA Martina Anderson said the "orgy of destruction" in the Bogside was totally unrepresentative of the local community.
"Elderly residents living in Fahan Street, Joseph Place and the Wells were left terrified in their homes. Local people were fearful that the trouble could spiral out of control due to the large number of onlookers who had gathered in the area," she added.
Two burned out vehicles disrupted rush hour traffic on Wednesday morning as Derry City Council worked to clear the debris from the road.
Jim Roddy, the city centre manger, was at the clean up operation and condemned the violence.
"It seems very much as if it was an attempt to goad the PSNI into the area," he said.
"Thankfully the PSNI took up a watching brief and stayed out because I think if they had come in, the young people who were hanging about here may have reacted.
"For a lot of those young people it may have seemed like a lot of fun but for the people who live around this area, for the tourists who are going through this area today, and for most other people it's very, very sad to see such scenes again on our streets."
The trouble in Strabane was described as sporadic.
Shortly before 2300 BST petrol bombs and other missiles were thrown at the town's police station and at a police patrol on Newtownkennedy Street and Barrack Street.
A group of about 20 people threw stones at officers in the Orchard Street area and during the early hours four petrol bombs were thrown in Townsend Street.
In Castlederg, bricks and bottles were thrown at the police station at about 0100 BST.
Petrol, bricks and fireworks were recovered by police on the Lurganboy Road. A 20-year-old man was arrested and released on bail pending further enquiries.