Northern Ireland jobless figures show slight drop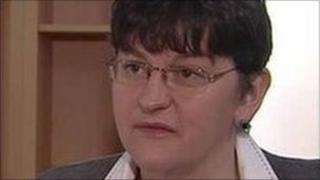 The estimated number of people out of work in Northern Ireland has dropped slightly according to the latest figures.
The number of unemployed fell to 61,000 but the rate remains the same as this time last year at 7.1%.
The Northern Ireland rate remains below the UK average of 7.7%, which has also dropped slightly, and far below the 14.7% in the Republic.
However, the number claiming benefits rose by 400 in the past month.
The rate of increase was the lowest of any UK region.
Nevertheless, there are 3,600 more people on benefits now than at the same time last year, meaning Northern Ireland's claimant count rose by twice the UK average over the year, the highest of any region.
Economy Minister Arlene Foster took comfort in a fall in the level of economic inactivity.
The Northern Ireland economy has traditionally suffered from very high numbers of people who are not looking for work but could re-enter the workforce - notably the long-term sick.
The latest estimate puts that number at 540,000, almost nine times the number of officially unemployed, but the figure is down 19,000 over the year.
Arlene Foster said any improvement in that historical problem was to be welcomed.
The number of people in jobs rose during the period March to May, up 22,000 and the estimate of 803,000 is 29,000 up on last year.