Thirteen-year-old boy charged with role in Belfast riot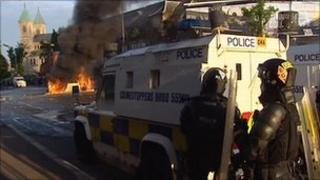 A 13-year-old boy has appeared in court charged with rioting in Belfast on 12 July.
The boy was remanded in custody along with a 34-year-old man who is alleged to have thrown a paint bomb at a police land rover during disturbances in Ardoyne, north Belfast.
Belfast Magistrates' Court heard the boy had only been released on bail a day earlier over an unrelated case.
He cannot be named because of his age.
District Judge Ken Nixon refused bail and remanded him in custody to appear again on Friday.
Also in court was Austin O'Driscoll, a builder from Torrens Crescent in Belfast. He is charged with riotous assembly and causing damage to a police land rover.
Mr O'Driscoll's barrister said his client accepted being in the area at the time but denied the allegations made against him.
He claimed he came out of a pub at the wrong time and got caught up in the rioting at Ardoyne.
Mr O'Driscoll was also refused bail with the judge ruling there was a likelihood of re-offending based on the evidence before the court.
He was remanded in custody to appear again via video-link next week.