Tourette's man accused of assault criticises police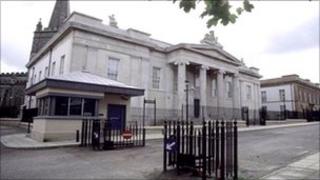 A man with Tourette's Syndrome has criticised police for not properly understanding the condition after public order charges against him were dismissed by a Londonderry court.
Eugene Martin McLoone, 54, from Abercorn Road, Derry, contested charges of disorderly behaviour, assaulting a policeman and resisting arrest.
He walked free from court on Monday after a doctor explained that his behaviour was related to his condition.
"I didn't do anything wrong," he said.
A policeman told the court that he had approached Mr McLoone at Strand Road on 11 January.
He said at one point Mr McLoone threw his crutches down, lay on the ground and screamed that he had been attacked.
The officer arrested him.
Swearing
A doctor told the court that Mr McLoone was the only one of his 11,000 patients who suffered Tourette's.
"He falls into the 10% of Tourette's Syndrome sufferers who has coprolalia or dirty tongue. When he would arrive at my surgery for an appointment I knew he'd arrived because I would hear him swearing in the waiting room," he said.
"Tourette's sufferers are also prone to rages brought on by increased stress. Part of the rage could be throwing themselves onto the ground."
Mr McLoone said the case had caused his family great distress.
"My wife was really upset and my children just shook their heads and thought 'what next?'. If you have it you cannot get rid of it and if somebody doesn't like it then they will ridicule it and mock you.
"People who hold certain positions like police officers or some of the clergy, they need to reflect how they address it.
"I can't get worse but it is there," he added.
A police spokeswoman said: "We are committed to treating everyone fairly and with respect."