Lurgan rape: accused 'intent on revenge' court told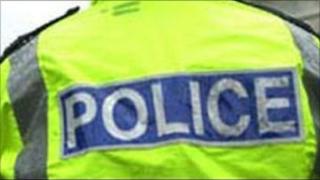 Five men arrested in connection with a gang rape and assault that lasted over 12 hours, had nothing to do with the actual attack, a court has heard.
In fact, police feared the five were intent on revenge for that assault.
The men from Lithuania were charged with possessing an offensive weapon and conspiracy to commit grievous bodily harm in court in Lisburn on Saturday.
The court was told two of the men had gone to police to provide information about a sex assault on Wednesday.
A police officer said the five were arrested as they were carrying out searches at 2230 BST on 14 July at Tandragee Road, Portadown.
A 6in knife, and two metal poles were found in the men's car, police said.
The driver of the car told police they intended to get those who assaulted their friend.
He was referring to a serious gang rape and assault at Dingwell Park, Lurgan, on Wednesday 13 July in which a man and a woman were seriously injured.
The five men are Deividas Miskinis, 27, of Mourneview Street; Dainius Ulevicius, 24, from St John's Crescent, Vytautas Petryia, 19, from the Tandragee Road; Aurimus Kliavga, 25, from Clonavon Avenue, all in Portadown and Donatas Endrikaitis, 21, from Park Road, Craigavon.
A detective objected to bail saying police feared that if released, the men would commit further offences and interfere with the investigation into a rape and physical assault which happened on July 13.
She said two of the men provided information but within hours, police on mobile patrol spoke to Mr Miskinis who was driving the car who told them they were "going to get the men" who comitted the assaults.
When the car was searched, the police uncovered the weapons.
"Police believe that the defendants were going to take justice into their own hands," she said.
A solicitor said the men had clear criminal records and were in fact intent on assisting the police investigation.
If they had intended to take justice into their own hands, it was unlikely they would have gone to the police station beforehand, the solicitor argued.
All five were granted bail.
The magistrate said this was a highly unusual case.