Abuser returned to Donegal school after conviction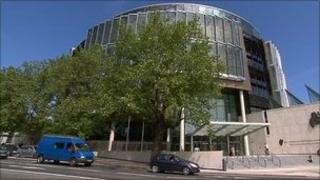 A caretaker who returned to work in a school where he had previously sexually assaulted a child, has been jailed for 14 years for abusing four more boys at the same school.
Michael Ferry, 55, from Gweedore in County Donegal, pleaded guilty to molesting and raping the children at Ard Scoil Mhuire in Derrybeg.
The boys, aged 10 to 17 at the time, were not pupils at the school.
They were abused on an almost weekly basis, some for as long as four years.
Ferry admitted to 38 charges of rape, 18 sex assaults and two charges of production of child pornography between 1990 and 2005 at the Central Criminal Court in Dublin on Monday.
Mr Justice Paul Carney said it was a disturbing feature of the case that the charges pre-dated and post-dated Ferry's conviction for abusing a child at the same school.
He received a six-month suspended sentence in 2002 for two incidents of indecent assault in 1985 and 1986. He was also placed on the sex offenders' register for five years.
Mr Justice Carney said this must have been known to local gardai and presumably the school authorities.
'Demon'
One of the victims, Derek Mulligan, waived his anonymity on Monday to ask Ferry's employers why he was allowed to continue to work as a caretaker at the school.
Mr Mulligan said he believed someone so sick and perverted could never change.
He also urged other victims of sexual abuse to speak out and said it was not until he came forward that his nightmare ended.
Mr Mulligan described Ferry as a demon who had shown no remorse. His only remorse was for being caught, he said.
Ard Scoil Mhuire is a former school building that is used for Irish language courses in summer.
The court heard that although Ferry's victims were not pupils at the school, they would regularly go there to play football and hang around.
Ferry groomed them by supplying them with alcohol, cigarettes and money, the court heard. He would also make them watch pornography with him.
Two of the boys told gardai they were abused by him when he got them so drunk they were afraid to go home to their parents.
'Opportunity'
In victim impact statements read to the court, the four boys, who are now young adults, described being through a nightmare.
Some said they had turned to drink and drugs. One said the abuse had taken over his life.
Another said the abuse was like being pounced on by a wild animal. Another said he had crashed his car and motorbike into a wall on two different occasions.
The judge said that despite the fact that Ferry pleaded guilty to the previous charge, he remained working at the school. This afforded him the opportunity to engage in the stalking and grooming of the boys in this case, he added.
In mitigation, he said Ferry had pleaded guilty and showed genuine remorse.
He sentenced him to 18 years in prison, with the last four suspended.