Irish minister wants answers over abuser Michael Ferry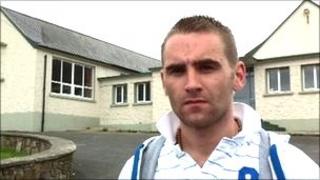 The Irish Justice Minister has called on a County Donegal school to explain why it continued to employ a man after he was convicted of abusing a child.
On Monday, 55-year-old Michael Ferry from Gweedore was jailed for 14 years for sex offences committed at a school in Derrybeg between 1990 and 2005.
Ferry had been convicted of similar offences in 2002, but continued to work as a caretaker at Ard Scoil Mhuire.
The school is used for Irish language courses in summer.
The Justice Minister Alan Shatter said the sequence of events that saw Ferry come back to work at the school was "unacceptable".
Mr Shatter revealed that gardai had informed the health board about Ferry's conviction in 2002 and expressed concerns about his continued employment to the school's owner.
One of Ferry's victims, Derek Mulligan, waived his right to anonymity following the court case on Monday.
He said he believed Ferry was a "sick and perverted demon" who could never change and should never have been allowed to return to work at the school.
He also urged other victims of sexual abuse to speak out and said it was not until he came forward that his nightmare ended.
"My life was just spiralling out of control," Mr Mulligan said.
"No employment contract"
"I just could not take it any longer so I came home and told my family.
"Some people say it is not good to talk about it but it is the case that if I had not talked about it, other lads may not have come forward."
The court heard that although Ferry's victims were not pupils at the school, they would regularly go there to play football and hang around.
Ferry groomed them by supplying them with alcohol, cigarettes and money.
The Justice Minister was very critical of the situation.
"It is unacceptable that this individual having being reportedly convicted for child abuse of a student nine years earlier continued to be employed as a caretaker in the school and to have access to vulnerable children," said Mr Shatter.
He added that the case "starkly illustrated" the necessity for those in management positions in the education sector to comply with guidelines for the care of children.
A director of Scoil Colmchoille, the Irish College that operates at Ard Scoil Mhuire, in Derrybeg, said on Tuesday that a formal statement from the school in relation to Michael Ferry would be issued before the weekend.
Donal O'Lionsigh told RTE that Ferry had "no employment contract as such".
He also said there were "no little children attended the courses" run over the summer.