Belfast City Hospital offers tuberculosis screening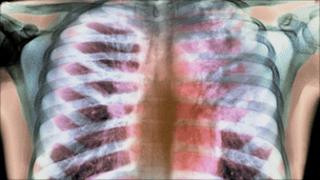 A second case of tuberculosis has been confirmed at Belfast City Hospital.
A member of staff has contracted the same strain of TB which infected an elderly patient earlier this year.
Belfast Health Trust said there is a third possible case but this has not been confirmed and there is no proven link to the other two.
Screening has been offered to 43 people who were on the same ward - ward six north.
The trust said patients should not be alarmed. Appointments for screenings are available from Wednesday.
The first case - a patient in his 70s on ward six north - was diagnosed in February.
He has since died but the health trust said he did not die from TB.
Earlier this month a member of staff from the same ward was diagnosed with the same strain of the disease. She is now recovering.
Belfast Health Trust said some people have already been screened.
Screening
The trust said letters have been sent out to others, including details for booking an appointment.
Its medical director Tony Stevens said it was the first time he had encountered a member of staff being infected with TB by a patient.
"Occasionally, I have seen this situation when a member of staff is coming back from working in Africa or a third world country but this is not a situation we've come across before," he added.
"So the public should be reassured that we are dealing with a situation which is very unusual and we are moving very quickly to ensure all staff and patients are protected."
The trust has set up an advice line for anyone who may be concerned which will be available from 0900 to 1700 BST until Friday.
The telephone number is 08009178226.
Tuberculosis is an infectious disease and symptoms include coughing, chest pains, weakness, weight loss, fever and night sweats.
It is treatable with a course of antibiotics.