Musgrave retail group buys Superquinn supermarket chain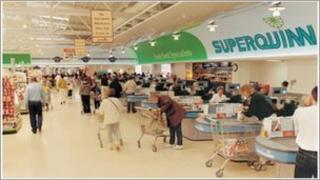 Irish supermarket chain Superquinn has been bought by the convenience retail group Musgrave.
Superquinn went into receivership on Monday.
Musgrave own the Supervalu, Centra and Mace brands which operate in Northern Ireland.
Superquinn, which was founded in Dundalk 50 years ago by the entrepreneur Feargal Quinn, was an innovator in the Irish grocery market.
It was the first supermarket to emphasise quality, highlight the source of food and introduce innovations such as online sales and self-scanning.
BBC NI economics and business editor, Jim Fitzpatrick said the chain had faced tough competition in recent times.
"The group, which has 24 stores, mostly in the Dublin area, seems to have been squeezed at both ends of the market by high quality competition from the British groups like Tesco, and low price competition from German retailers like Aldi and Lidl who have done particularly well in these tough economic times," he said.
The deal, if approved by the competition authority, will create a food retailer to rival Tesco's 27% share of the Irish grocery market.