McIlroy and McDowell welcome Clarke home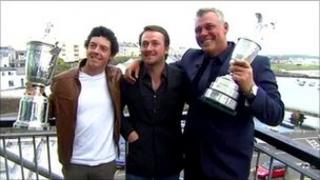 Rory McIlroy and Graeme McDowell have welcomed Open champion Darren Clarke back to Northern Ireland at a celebratory ceremony at Royal Portrush.
The trio posed for pictures together on Tuesday along with two of golf's most coveted trophies.
Clarke, 42, won the 140th Open Championship at Royal St George's in Kent on Sunday.
Earlier, he presented his gold medal to Royal Portrush - his adopted hometown club.
The medal will now sit alongside that won by Fred Daly, the only other Northern Ireland winner, in the clubhouse.
Former Royal Portrush member Daly won the Open Championship in 1947.
Clarke presented the gold medal to the captain of the club, Philip Tweedie, at a lunch-time press conference on Tuesday.
The medal won by Daly is displayed in the clubhouse and Clarke said: "This one is to go alongside it. It's for Royal Portrush."
'Privileged and honoured'
Clarke said he was delighted to complete the Northern Ireland hat-trick and join US Open champions Rory McIlroy, 22, and Graeme McDowell, 31, as a major winner of a golf tournament.
"It's just incredible," Clarke said.
"The two kids have been, and are, fantastic ambassadors for Northern Ireland. I feel privileged and honoured to join them."
And when asked what his best shot of the championship was, Clarke said it came right at the end.
"It was the second shot at the eighteenth," he explained.
"That left me on the green. It's a nice feeling knowing you could four putt from the edge of the green and win the Claret Jug."
He's keeping that jug for the next year, but his gold medal will be on display at Royal Portrush for many years to come.
Clarke was born in Dungannon, County Tyrone, but has played at Royal Portrush since he was a teenager. He moved back from England to live closer to his family in the town last year.
"For me this is the best golf course in the world. I am very privileged to give Royal Portrush the gold medal," said Clarke.
"I would much prefer that people who come here to play see the medal in the cabinet."
The newly crowned Open champion also took the opportunity to once again press the case for the competition to return to Royal Portrush for the first time since 1951.
That championship came soon after Daly's win and Clarke is hopeful that the recent success of Northern Ireland's three major winners - himself, Rory McIlroy and Graeme McDowell - will help encourage the tournament's organisers.
"This golf course is fit to hold any competition in the world," he said.
"I am sure if the R&A take a good look at it they can reassess. Right now, with Rory, G-Mac and myself doing so well it would be wonderful to bring it here."