Northern Ireland-based 19 Light Brigade disbanded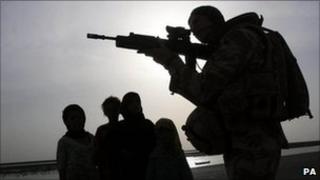 An Army brigade, which has its headquarters in Northern Ireland, is to be disbanded, the Ministry of Defence has said.
The MoD said the 2,000 soldiers of the 19 Light Brigade will be redeployed to other units.
Its regiments include 2 Rifles based at Ballykinlar, County Down and 2 Mercian based at Palace Barracks in Holywood.
An MoD spokesman said there was likely to be an impact on civilian staff but it was too early to know what.
He added that consultations would take place with trade unions.
Defence Secretary Liam Fox announced in the Commons that getting rid of 19 Light Brigade was the most logical option as part of the restructure of the armed forces.
DUP defence spokesman Jeffrey Donaldson said the move represented a significant reduction in the military footprint in Northern Ireland.
He said this was despite the fact Northern Ireland was the region of the UK that faced the greatest security threat.
The brigade completed a tour of Afghanistan two years ago and is currently in final training for another deployment this autumn.