Fish put into 'algae-choked lake' in Loughbrickland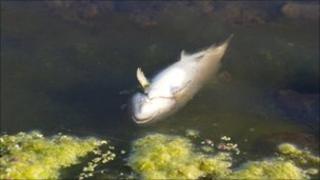 Questions are being asked about why the Department of Culture and Leisure restocked a County Down lake with fish, when it is polluted with thick algae.
Loughbrickland Lake has been choked with the weed since Easter but earlier this month it was restocked with 500 trout.
Last week local people photographed dead fish in the water.
The department said the numbers of fish killed were small. It started removing the weed on Wednesday.
The lake attracts anglers from across Northern Ireland and is also a popular beauty spot for walkers and wildlife enthusiasts.
Normally the lake is kept clear using a weed harvester - but local people have said it not worked for six months.
However, it was used on Wednesday to clear parts of the lake.
Despite the lake's condition, two weeks ago the Department of Culture and Leisure restocked it with 500 trout.
DUP assembly member Stephen Moutray said the lake should have been cleared first.
"There needs to be a joined up approach here, because on the one hand someone's stocking the lake with fish, and we would welcome that normally, but on the other hand the lake hasn't been cleared of the algae.
"I think it's about getting things done in the proper order and I'm very concerned that tax-payers' money's been spent, misspent in this way," he said.
In a statement, the Department of Culture and Leisure said that since the fish were released, due to the summer weather, the algae levels on the lake had increased significantly.