First private injuries clinic to open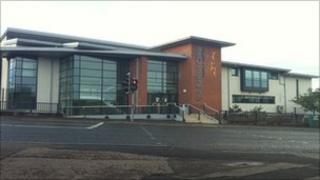 Northern Ireland's first private minor injuries unit is due to open in the next couple of months in south Belfast.
The Kingsbridge Private Hospital will be based on the Lisburn Road.
It means that for certain injuries a person could avoid potential waits at NHS Accident and Emergency departments.
Examples of what the unit will be able to deal with include; cuts that might need stitched, sprains or uncomplicated fractures, minor burns or sports injuries.
People requiring treatment for chest pain, serious head injuries or breathing difficulty would still have to go to an NHS hospital.
The consultant led minor injuries unit will only be open in the evenings - another important distinction from NHS Accident and Emergency departments which are generally open 24 hours.
Kingsbridge Private Hospital will be run by 3fivetwo Healthcare, which has been providing private treatment in Northern Ireland since 2003.
It will be based in a building previously used by two private clinics that have failed - the Balmoral Clinic, which closed after big financial losses, and the Belfast Clinic, which went into administration last year. But the BBC understands this is an entirely new venture.
Final checks are being carried out at the building by the Regulation and Quality Improvement Authority. The company will need approval from them before the facility can open.
But the company is hopeful the clinic will open by September and is currently recruiting staff.
How much?
3fivetwo Healthcare say they have yet to finalise fees. But similar clinics in the Republic of Ireland and England charge an initial consultation fee and then charge for treatments on top of this.
For example; the Vhi Swiftcare Clinics which operate in Dublin and Cork charge an initial consultation fee of 125 euros. After that an x-ray would set you back 90 euros, for stitches you would pay about 60 euros and to be put in plaster it would be roughly the same again.
The BMI Syon Clinic in Middlesex charges an initial fee of £49. An x-ray there costs £95 and stitching a small wound would cost about £43.