NI property firm Valto reports £36m losses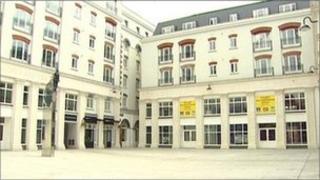 A major Northern Ireland property firm has reported a £36m loss in its latest set of accounts.
Valto is the firm behind projects such as St Anne's Square in Belfast and Junction One near Antrim.
In the 18 months to the end of March it showed an operating profit of £4m.
However, that was wiped out through a combination of losses on the sale of investments, write-offs and a £12m interest bill.
In addition, Valto wrote down the value of its investment properties by almost £40m giving a total recognised loss of over £75m.
The firm, which is owned by brothers Shamus and Thomas Jennings, was called Cusp until June this year when its name was changed.
In the accounts, the directors state that the trading performance of the business was satisfactory and that the large one-off losses reflect the impact of the "protracted recessionary climate on the property market".
Net assets
The directors state they have a reasonable expectation of maintaining the support of their lender, the Ulster Bank. The bank is owed around £122m.
The company now has net assets of £21m, down from £95m in September 2009.
The accounts also reveal that in the past 18 months, the company spent £507,000 to buy the remaining 50% of Turnus, the subsidiary which controls St Anne's Square.
Turnus had been a joint venture with the Coleraine-based Kennedy Group.
Valto also sold two assets for just £1 each: Kendal Riverside Ltd, which controls a shopping development in England, and a 50% stake in Waterside Crescent Ltd, which is understood to control a site in Londonderry. It is not clear who the purchasers were.
The Jennings brothers are regularly rated as among the wealthiest people in Northern Ireland.
In 2008 they sold their building services firm, Rotary, to an Australian engineering company in a cash and shares deal worth £95m.
The same year they sold the Cromwell Hospital in London in a £90m deal.