Buzzing Belfast best for tourists says travel site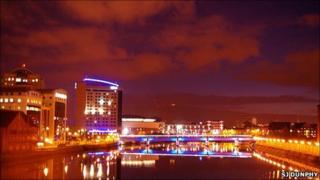 Belfast is the best value UK city for tourists, according to a new cost comparison index from the travel website TripAdvisor.
London was the third most expensive location among the 49 cities in the index.
The comparisons were based on the cost of a pizza, a dry martini, a taxi ride and one night's accommodation in a four-star hotel.
The cost in Belfast was £106.54, but in London the cost was as much as £231.95, with only Zurich (£235) and Paris (£267) being more expensive.
After Belfast, the best value UK city was Liverpool (£115.62) followed by Cardiff (£123.06), Glasgow (£131.40) and Manchester (£135.89).
Cheapest city in the list was Bangkok (£69.46) followed by Beijing (£74.50), Sharm el Sheikh in Egypt (£79.57) and Kuala Lumpur (£83.15).
TripAdvisor's Emma O'Boyle said: "Cost, and in particular value for money, is one of the most important considerations for travellers.
"This index allows travellers to make an educated decision as to whether a destination is right for them."