City Hospital A&E unit 'likely to close' - Poots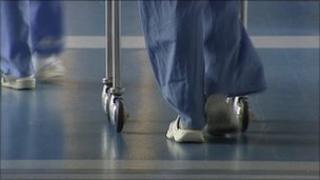 Health Minister Edwin Poots has given a strong indication that accident and emergency services at Belfast City Hospital are likely to close.
He told the assembly's health committee the hospital is likely in future to concentrate on planned procedures.
He said there were no plans to close the accident and emergency unit at the Mater Hospital in north Belfast.
He also revealed that opening hours at the Lagan Valley hospital in Lisburn will be restricted from August.
This was due to the shortage of junior doctors.
Mr Poots said: "The City Hospital more and more, has been moving towards surgeries and procedures which are planned and ultimately that is probably where we see the City Hospital.
"The Belfast Trust are working on this at the minute so I haven't had the proposal put to me, but they're working towards the position that more elective surgery takes place at the City Hospital and more emergency procedures take place at the Royal."
'Consistently warned'
The briefing by Mr Poots came as his department faces staff and financial shortages.
Ulster Unionist MLA John McCallister said: "The Ulster Unionist Party consistently warned the finance minister during previous budgetary debates that the health budget was not being allocated the necessary resources to carry on the standard of care it currently provides.
"Even within this financial year there is still up to an £85m black hole in the health budget."
SDLP MLA Mark H Durkan said emergency services at the Royal, the Mater and Craigavon "must be enhanced to deal with the inevitable increase in demand" that the reduction in service at Lagan Valley and the removal of A&E from the City Hospital would bring about.
"The repercussions of these changes could be disastrous if they are implemented without sufficient planning and reallocation of resources," he said.
"These decisions are being attributed to a shortage of junior doctors. This needs addressed as soon as possible, but I doubt very much that when it is, full A&E cover will be reinstated."
The public service union Nipsa raised serious concern over the minister's view that the Belfast City Hospital's accident and emergency unit was likely to close.
The union's Alison Millar said: "The current funding situation in the health service, as with other parts of public sector, is totally insufficient and the proclamation the minister made will not be the last as there is just not enough money in the system to pay for vital public services."
Last month, a draft document from the Health and Social Care Board indicated that health care faces stark choices - with a funding shortfall of almost £1bn over the next four years.