Why do we not have enough junior doctors?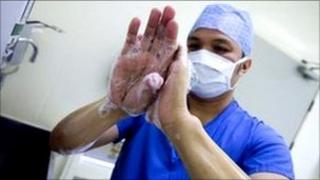 The health minister has said that one of the contributing factors to the likely closure of accident and emergency services at Belfast City Hospital is the shortage of junior doctors.
Edwin Poots said that, alongside a lack of consultants, not having enough junior doctors was one of the main reasons why the casualty department could close as early as October.
Opening hours at the Lagan Valley Hospital in Lisburn are also likely to be cut from August.
But why does Northern Ireland not have enough junior doctors?
The minister has revealed that from August Northern Ireland will have 66 fewer junior doctors than it currently needs.
There are also 17 further projected vacancies working specifically in emergency medicine. With these figures it is understandable that a major recruitment drive is under way and that A&E departments could be cut.
But Northern Ireland is not the only region attempting to negotiate this problem.
The health department says that the only region in the UK not facing a shortage of junior doctors is the south-east of England where the draw of the major teaching hospitals in London always ensures enough young doctors want to train there.
However, the desire to be at the best teaching hospitals is just one of the hurdles Mr Poots must overcome.
There are a number of other issues too. More strict visas for non-EU residents, union pressure and the European Working Time Directive have all made the traditional system of training junior doctors harder to continue.
The introduction of the European Working Time Directive has drastically cut the number of hours junior doctors are asked to work in our hospitals and this has, in effect, meant that more doctors need to be hired to cover a hospital's needs.
Professor Mahendra Varma is a consultant cardiologist at the Erne Hospital in Enniskillen. He feels that, as well as Northern Ireland not training enough junior doctors, these broader issues are putting the squeeze on the health service.
"To staff all the hospitals adequately, and to take into account the European Working Time Directive, we struggle filling all the posts needed," he explained.
"For years we were supplemented by foreign doctors but because of unions, cuts and recruitment, that's become very difficult. It's a European problem.
"Indian, South African and Australian doctors - who were trained in English - cannot get work permits here. There's a manpower shortage. The minister is correct on staffing.
"In the Erne we have difficulty in staffing our accident and emergency unit."
The problem for smaller, country hospitals in getting enough junior doctors has been raised before but Professor Varma does not believe is is as simple as many people argue.
He said that not every trainee doctor feels the need to work in a teaching hospital.
"There are doctors who want to get a broader range of experience, they always come to the country hospitals.
"Those that want to get specialist training decide not to. If you want to become a cancer specialist you don't come to the Erne, you stay in Belfast to work in a specialist unit like the Royal."
As for the shortage of foreign doctors to fill the gaps, Professor Varma feels this has a significant knock-on effect in the quality of medical care available in Northern Ireland.
Indian doctors are trained for medicine in English so when they come to the UK they are ready to work. Prof Varma said, in his experience, that doctors from elsewhere in the EU who come to work in Northern Ireland can face problems.
"There are plenty of good doctors from Poland, Latvia and other EU countries but they are trained in their own language," he said.
"When they come here and work in our hospitals they are thrown into the deep end. English is the main issue - it makes things difficult.
"The problem is that these people are not trained in the medium of English. The problem is communication, not the standard of training."