Politicians hit out after Ardoyne mortar bomb find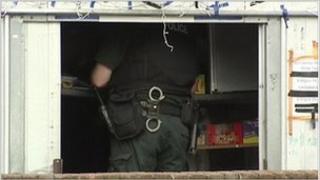 There has been widespread condemnation after a mortar bomb was found in Ardoyne in north Belfast.
The mortar bomb and a quantity of cigarettes were uncovered during an arrest and search operation in the Etna Drive-Jamaica Street area.
Seventy families were moved from their homes for most of Thursday as the area was searched. Police are questioning a 41-year-old man about the find.
Sinn Fein Councillor Gerry McCabe said lives could have been lost.
"To think that someone would actually leave a viable device lying about in a built-up area such as Ardoyne, it's just madness," Mr McCabe said.
'Intent on destruction'
"This is the summer holidays, so there are a lot more children about now than there would be normally."
DUP MP Nigel Dodds said the people responsible for the mortar bomb were "intent on destruction and its discovery had prevented death or serious injury".
"It is very clear that those responsible have no regard for anyone's life," he said.
"I would hope that anyone in the area with information will assist the police in bringing whoever is responsible to justice."
SDLP Councillor Nicola Mallon said: "People in Ardoyne have suffered enough over the past few weeks with rioting over the Twelfth and are shocked and angered at the selfish actions of those responsible for planting this device."
Superintendent Mark Purdon said: "The actions of police today have undoubtedly thwarted the attempts of criminals to inflict death, injury and misery on the community of north Belfast.
"Police are determined to work to protect communities from these threats and would appeal for the publics continued assistance and co-operation."