Belfast gets all dressed up with banner display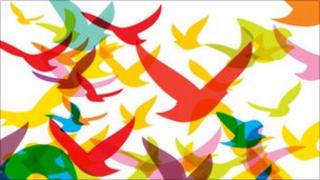 The first of 400 patterned banners have been unfurled in Belfast as part of a so-called "city dressing" project.
The banners are to be rolled out at 262 sites across the city, with the first being put up on East Bridge Street.
Featuring 12 themed patterns, the colourful banners aim to welcome visitors as well as making Belfast's streets brighter and attractive.
They are themed on patterns unique to Belfast including the Dome of City Hall, the stain glass window of Clonard Monastery and Harland and Wolff's iconic cranes.
Costing £81,000, the quirky banners will be sited in the centre of Belfast and on arterial routes into the city.
They will be hung from now until November, and will remain on site for three years. New patterns will be introduced at Christmas and throughout 2012 and 2013.
The City Dressing Plan has been developed by Belfast City Council in partnership with Belfast Visitor and Convention Bureau, Belfast City Centre Management, DRD Roads Service and the Department for Social Development.
To support the initiative and encourage visitors to find out more about the concepts as well as explore the areas represented, Belfast Visitor and Convention Bureau has launched a new 'patterns of the city' section on www.gotobelfast.com
Christopher Stalford, Chairman of Belfast City Council's Development Committee, said he was delighted to see the city's streets "all dressed up" to welcome visitors.
"These original and quirky designs convey patterns of our city, unique to Belfast's people and heritage," he said.
"We have engaged with locals including our young people from across the city to identify patterns which best represent Belfast.
"The result is a concept which builds on the Belfast brand and celebrates a city which is welcoming, sociable, witty, optimistic and bursting with energy and enthusiasm.
"Innovative and colourful city dressing attracts both business and people to cities and is a key part of using our streets to convey positive messages as well as transforming the look of our city," he added.