'Sham marriage' couple appear in court in Belfast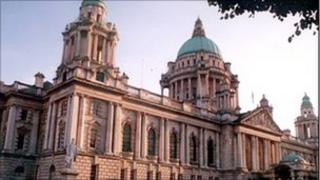 A Ghanaian woman has appeared in court after police stopped an alleged sham marriage taking place in Belfast.
Victoria Boateng, 18, was arrested and charged along with a Portuguese man suspected of being the groom in a registry office ceremony at city hall.
Two other men thought to have been acting as witnesses were also detained on Wednesday.
They are understood to be from Portugal and South Africa. Both have been released pending further inquiries.
When police officers made the arrests, they were accompanied by a United Kingdom Borders Agency Immigration Crime Team.
Ms Boateng, with an address at Fernagh Drive, Newtownabbey, is charged with seeking to obtain leave to remain in the UK by deception, namely through attempting to get married.
Belfast Magistrates Court heard she came to Northern Ireland after being granted a temporary visa for youth work in Hertfordshire, England.
No show
A police officer who connected her to the charge opposed bail due to fears she may flee if released.
He added that she had never appeared at the place of work for which she had been given clearance.
Ms Boateng's lawyer told the court she has been staying with her mother, who works as a care home nurse, and has enrolled at Belfast Metropolitan College.
The accused was granted bail on condition that she continues to live at that address.
District Judge George Conner also ordered her to report to police daily and surrender all travel documents in her possession.
Ms Boateng is due to appear again in court next month along with the alleged groom.
The 24-year-old man, originally from Portugal, has been charged with assisting unlawful immigration.