Man, 19, in court in connection with 11th night riot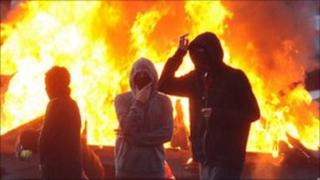 A 19-year-old man accused of rioting in north Belfast on the 11th night was among the main instigators of the trouble, a court has been told.
James Brophy, of Pilot Street, was identified from CCTV footage taken by police near the New Lodge area.
He is charged with riotous assembly, and possessing and throwing a petrol bomb.
He is also accused of assaulting a man and threatening to commit criminal damage to his home between 11 -12 July.
A police officer who connected him to the charges told Belfast Magistrates Court, that police opposed bail due to the risk of further offences.
She said: "There are five more parades due to take place throughout the summer.
"From viewing CCTV of the public disorder that took place on the 11th it would appear that the defendant wasn't just taking part, he was one of the main instigators."
Defence solicitor Billy McNulty rejected claims that his client organised the street disorder.
He said Mr Brophy was not wearing a mask in the footage, arguing that anyone who orchestrated the rioting would have hidden their identity.
Denial
Mr McNulty told the court the accused went to police voluntarily and accepted his involvement.
He said his client denied the charge of threatening criminal damage.
"It's quite clear (from the CCTV) that he has a bottle of beer, swigging from it," the lawyer said.
"He accepted he was drunk and in his own words he was acting the idiot.
"But to say he was the orchestrator or a prime-mover in this riot, I would take issue with."
District Judge George Conner commented that the instigators rarely end up before the courts.
He said: "They generally manage to hide themselves away and manipulate others... to act on their behalf."
But Judge Conner repeated his warning that those involved in rioting can expect to be jailed.
Refusing bail, he said: "The risk of further offending is too high. I'm afraid I have the public to protect."
Mr Brophy was remanded in custody to appear again via video-link next month.