Alex Attwood concerned at amount of household waste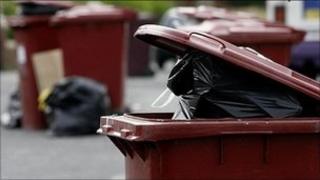 The Environment Minister Alex Attwood has said he is concerned about the amount of household waste that is still produced in Northern Ireland.
While welcoming the steady increase in recycling rates Mr Atwood said: "I was disappointed to see that the amount of household waste produced in Northern Ireland this quarter has increased by 2.6% compared to the same period last year.
"This demonstrates that we cannot be complacent."
Although there was more rubbish produced, the good news is that there was an increase in recycling of more than 3% since the same time last year.
It keeps the recycling trend moving in the right direction.
Adding up the previous months shows the annual average for recycling in Northern Ireland to be just over 37%, the highest yet.
It is easy to be tripped up by the recycling statistics.
They are gathered for each quarter and fluctuate quite a bit.
The highest recycling rate would be in late spring-early summer when the figure could leap to over 40%.
The cause of the extra recycling is gardening.
It is the time of year when grass cutting, pruning and weeding results in lots of materials being put in green recycling bins.
Before the green bins were introduced much of the green waste would have been squeezed into the conventional bin and then landfilled with the rest of the rubbish.
The overall steady increase in recycling should be good news for rate-payers.
Every ton of waste going into landfill attracts a landfill tax charge.
Ultimately it is the councils who have to pay this.
They add it to the rates bill which every household has to pay in turn.